Visiting Faculty Discuss Teaching an Imperfect Past in Video Interviews at the Georgia Historical Society
The YouTube playlist embedded below includes video interviews with visiting faculty members of the Georgia Historical Society's 2017 NEH Summer Institute Recognizing an Imperfect Past: History, Memory, and the American Public. Using a Q & A format, the visiting faculty discuss the challenges and opportunities of teaching controversial and uncomfortable history in the K-12 classroom. View the videos in the playlist embedded below or select videos to watch by visiting the GHS YouTube channel.
Read more about the interviewees on the visiting faculty page.
---
Monuments as Primary Sources Teacher Guide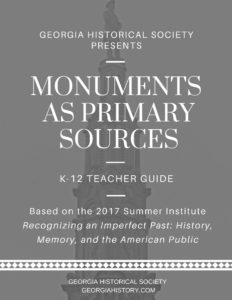 Download the Monuments as Primary Sources K-12 Teacher Guide for tips on how to incorporate themes and topics explored at the Georgia Historical Society's 2017 NEH Summer Institute Recognizing an Imperfect Past: History, Memory, and the American Public in the K-12 classroom. Inside you will find:
Frequently asked questions about monuments
monument site visit worksheet
Savannah's Tomochichi monument: a case study
Suggested readings
---
Click here to download the full Monuments as Primary Sources K-12 Teacher Guide
Click here to download just the Monument Site Visit Worksheet